TVS Emerald's Atrium @ GreenAcres customer centric 10-85-5 scheme
Homebuyers will need to pay only 10% on booking and 85% of payment after 2 years, on completion of flooring of the purchased unit.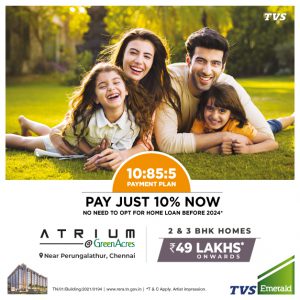 Emerald Haven Realty Ltd (TVS Emerald), a real estate arm of TVS Group Company, announced a unique limited period finance scheme for its newly launched project, TVS Emerald Atrium @GreenAcres a gated apartment housing project which is a part of an 18-acre community development project 'TVS Emerald GreenAcres'. As a part of a limited period finance scheme, a homebuyer will need to pay only 10% on booking and 85% of payment after 2 years, on completion of flooring of the purchased unit or Jan'24 whichever is earlier. The balance of 5% is payable during the possession of the apartment.
The unique limited period finance scheme is launched keeping in mind customer centricity. It enables home buyers payment flexibility as they need not take up a home loan until 2 years as no demand would be raised. The scheme can be availed till 15th December 2021.
Sriram Iyer, President & CEO, TVS Emerald, said, "We are delighted with the strong response to our newly launched project, TVS Emerald Atrium. Hence, to fast-track the project and also offer homebuyers a unique value proposition, we have launched a limited-period finance scheme. At TVS Emerald, we understand the pain points of aspirational homebuyers, who may have multiple financial obligations. Hence, by opting for this scheme, the customer is not required to take a loan or have a financial burden till 2 years, from the day of booking, thereby ensuring savings, on pre-EMI, of up to Rs. 6L."
He added, "Buying a home is an investment of a lifetime and homebuyers are willing to take on a lifelong debt for it. For this lifetime decision, we would like to handhold the customers by offering them a respite wherein they can secure their homes without a financial burden. TVS Emerald is the first in Chennai to bring this unique limited period finance scheme to the market and we hope to see many more homebuyers benefit from this offering."
Siva Krishnan, Managing Director – Tamilnadu & Head – Residential Services, India, JLL: "The objective of this unique developer subventions scheme is to ensure a safe passage for home buyers by alleviating the interest burden until the project is significantly built up. This scheme diminishes the risk of a homebuyer and also ensures that the developer delivers in a timely manner. For first-time home buyers in Chennai, this is a unique opportunity that will push fence sitter to finalise their purchase decision. This will certainly appeal to the Investors residing in the International destinations as well."
Spread across 2.5 acres, TVS Emerald Atrium @ GreenAcres comprises 4 towers, 8-storied buildings with spacious 2BHK and 3 BHK flats for sale near Perungalathur, ranging in carpet areas from 567 sq. ft. to 845sq.ft. The units are priced at Rs. 49 Lakh onwards. The project hosts a wide array of features and amenities such as 10800 Sq.ft of the central atrium, multi-purpose hall, sit-out area, kids play area, badminton court, jogging track, outdoor gym, flower garden, cricket pitch, skating rink, yoga lawn, open amphitheater, feature wall with outdoor theatre facility and much more.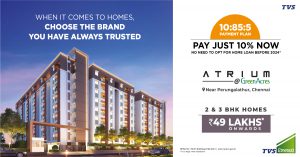 Strategically located near Perungalathur, TVS Atrium @ GreenAcres is in close proximity to major IT parks, and educational institutes and overlooks Vandalur forest reserve. Major transportation networks such as Kilambakkam bus terminus, Perungalathur railway station, and Vandalur junction are all located within a 5 KM radius. The project is a part of GreenAcres which is already home to 500+ families.
The project has 2 acres of lush green landscaping which comprises 3 carefully maintained garden and 4 parks, with over 1000+ trees & plants. The project is well planned and equipped with multiple health and wellness amenities.
The project is registered with RERA Number: TN/01/Building/0194/2021
About TVS Emerald
The TVS Group, is one of India's leading business houses, with over 50 group companies, close to 60,000 employees, and a turnover of over USD 8.5 billion. Started by TV Sundaram Iyengar in 1911 in Madurai (Tamil Nadu), where it is headquartered, it has over the years come to be synonymous with the qualities of Trust, Value, and Service – be it in two-wheelers, automotive components, or homes. Visit the TVS Group site to know more about its global, and enduring footprint.
Emerald Haven Realty Limited (EHRL) is a real-estate company forming part of the TVS Group. Starting in 2013, it brings to you the same trust, value, and service you have come to expect and rely on from the TVS Group.
TVS Emerald has already delivered ~2.5 million sq ft of residential housing to its customers, ahead of schedule. TVS Emerald plans to launch five more projects in the coming quarters. All with one solid aim — to make high-quality living spaces available to home buyers.