Tempting discounts, top quality & prime locality: TVS Emerald Ultimate Home Rush offers the best of everything
The festive season is here. Navratri festivities are already on in full swing and Diwali celebrations will begin in a few days. This is undoubtedly one of the most auspicious, joyous times of the year. Why not celebrate it with some auspicious beginnings as well? How about fulfiling your dream of buying a house?
And, if you are worried about burning a hole in your pocket, here's some good news. Offers are pouring in, especially at TVS Emerald in Chennai. One of the leading real estate developers in South India, they have multiple offers for their residential properties across the city. Take a loot at TVS Emerald's Ultimate Home Rush offers and get one step closer to your dream home. 
20:80 Scheme
For most people, buying a house is a tough decision because of the financial burden it entails. It is this fear that they hope to allay with their 20:80 scheme. As per this, you have to pay only 20 per cent of the total amount initially – 10 per cent on booking and another 10 per cent within the next 30 days. You can breathe easy for a while before paying the remaining sum. 
Luxury Upgrade: 
This is yet another offer that gives you unbelievable discounts. From a flat 30 per cent off on garden areas to discounts equivalent to the price of a modular kitchen and multiple air conditioners (in the bedroom and living area), there are various Luxury Upgrade offers that you can avail yourself, depending on which residential property you are investing in.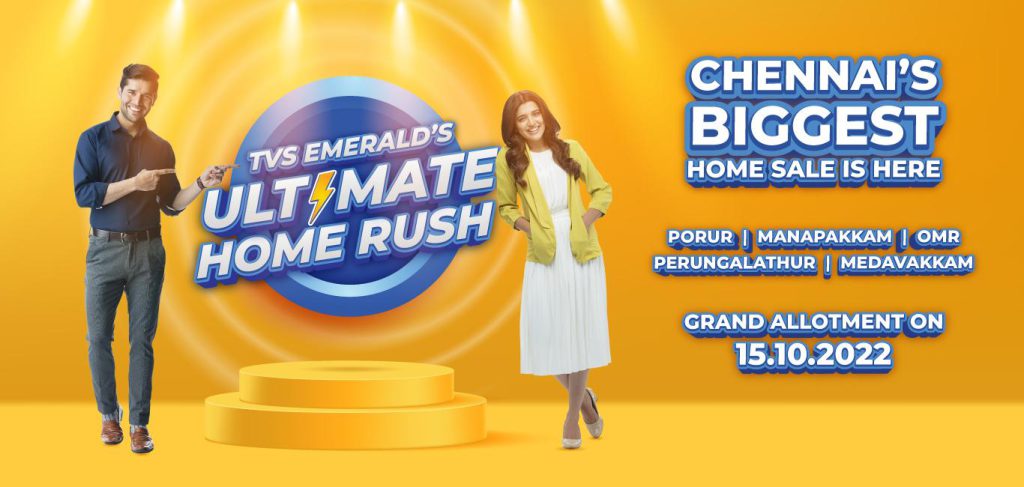 Home Automation:
Well, there's more happy news. Under the Home Automation offer, you can win discounts equivalent to the cost of automating your entire house! With such amazing offers, you are one step closer to owning a  2-3 BHK flat in Chennai, and that too, without burning a hole in your pocket! TVS Emerald has always believed in nurturing the dreams and desires of its customers and this is just another step in that direction. 
Gold Offer:
It is not just a Gold Offer, it's a 'golden offer'.  Book a residential property in any one of TVS Emerald's townships (listed below), and you can win discounts worth up to 100 grams of gold! Yes, you read it right. The rush has already begun and if you don't rush now, you could be missing out on a wonderful opportunity.   
Registration Cash Back:
Just when you thought that's it, here's another delightful news. TVS Emerald is offering you a cashback of Rs 25,000 on every property you book, right at the time of registration. Do you need any more reasons to choose them for your dream home?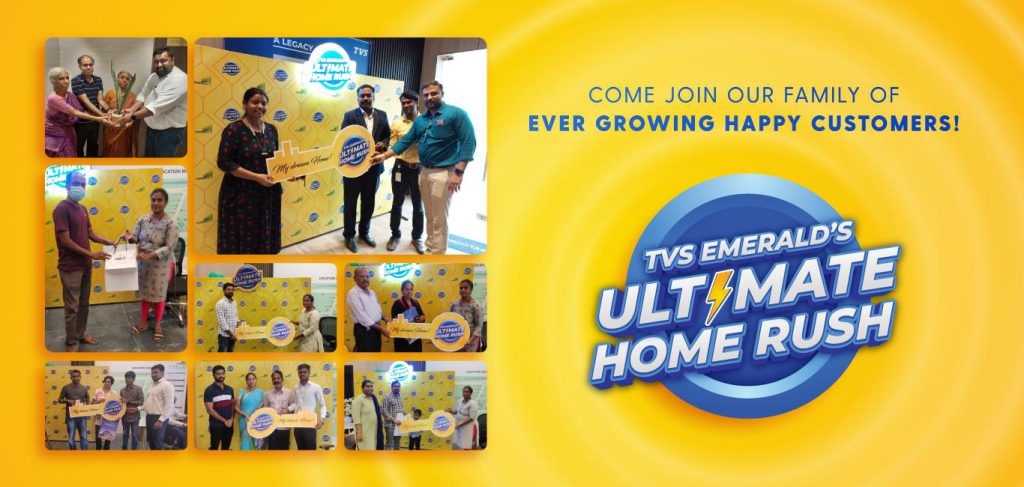 The W's: Where and Which
The offers are valid at five TVS Emerald projects across Chennai, all at prime localities – TVS Emerald Green Enclave near Porur, Peninsula at Manapakkam, Florence at Karapakkam, Atrium Green Acres at Kolapakkam, and Aaranya near Medavakkam. All five offers are available at every township except Florence, where the Home Automation offer is not on. 
Were you under the impression that a 2 BHK flat in Chennai is out of your reach? Well, with our ready-to-move-flats in Chennai, you are not only saving renovation costs and time but also winning a handful of whopping discounts!  It really can't get any better.  So, hurry before the offers close on October 15, 2022.